Celebrate Meal Time With Your Family!
By Elycia Bechard, LPC
Therapist at The Children's Advocacy Center of Jackson County
As families gather together for the holidays it can be a great opportunity to step back and remember the importance of connection.  If you are fortunate enough to have positive memories from your childhood experience of family meals, try to remember how those moments of learning, connection, or modeled behaviors affected you or shaped who you are today.   I frequently hear from parents their difficulties in trying to juggle their many responsibilities: children, partner, family, work, etc., so here are some fun, exciting ideas you can use while eating together as a family to develop or re-establish deeper connection with your child.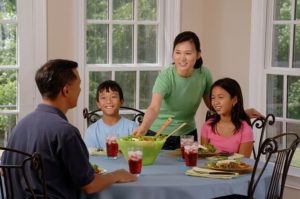 The goal is to get away from the TV and make dinner time fun for the whole family. If children choose not to participate, that is okay.  Parents modeling smiling, laughing and having fun can motivate children to participate!
The Microphone Game — Give everyone a chance to share about their day by passing around an object that serves as a microphone.  When someone has the microphone, they have the floor – meaning all others are listening! This technique can be a great opportunity to slow things down and make time to listen to one another.  It provides a space where children who might have difficulties trying to get out their thoughts and words have the time and space to share.
Play with your food! — I know, I know. This goes against everything we have been taught growing up.  Play at the table, however, can assist in making a comfortable atmosphere where your children feel they can share about their day.
Food Shapes — Make ordinary meals into fun shapes, faces, or designs, such as the smiley pancake, funny faces spaghetti, or an all time favorite – ants on a log. There are tons of ideas on-line if you need inspiration!
Themed Dinners – Pick a type of cuisine (Italian, Mexican, etc.) and imaginatively travel to the country with music, dress or décor. Perhaps your son loves Spiderman.  Plan a meal for Spidey and bring Spiderman toys to the table as décor.   You could do something similar themes like the "Frozen" movie, dinosaur adventures, and Minecraft explorations.
New Ideas — Ask your children if they have an idea or favorite game they learned from school to try at the dinner table!
Celebration Meals — Celebrations need not just be held for holidays. Have a celebratory meal for getting a good report card, passing a test, taking off training wheels on a bike, or having a successful work week.  Celebratory meals do not need to be expensive either, but can be about making that family member's favorite meal.
Book-Inspired Meals — Choose a recipe from your favorite book or movie – Green Eggs and Ham, The Very Hungry Caterpillar, Harry Potter's Pumpkin Juice, Cloudy with a Chance of Meatballs, James and The Giant Peach, The Stinky Cheese Man, Ratatouille, etc. Read from the story during dinner!
Kids in the Kitchen — Have your child choose a meal they would like to try and have them help you pick out the ingredients at the grocery store as well as in the kitchen. This can be helpful for children with persnickety eating habits to feel a sense of control and value.
Create a story together. – One person starts a story with one sentence. (Once upon a time….)  Each family member then adds one additional sentence until the story has gone around the table.  You can write down the story and read it aloud at the end of dinner for a great laugh.
Set the Mood — Play music, light candles, dress up a bit – all these changes can suddenly make dinner a special event.
The Dinner Guest – have each family member share one person from any time period that they would like to invite to dinner and then share why. This can be fun for parents to hear about what their children are learning in school and who their child shows interest in.
Telephone Around The Table – Keep those cell phones on vibrate! I'm talking about the classic game where one family member thinks of a phrase and whispers it to their neighbor until it has travelled around the table to see how close the phrase got!
Family Game Night — Pretend your family is on a Food Network TV show like Iron Chef, Chopped, etc.
Eat the Alphabet – Try to eat something that starts with every letter of the alphabet: Apple, Banana, Carrot, etc.
A wonderful starting place is to sit down and figure out how often you could potentially incorporate one of these fun, new ideas into mealtime, and most importantly be consistent. If you can plan to do it once a week, once a month, or any other amount of time, that is terrific. Create a schedule where your children have something fun to look forward to. Overall, enjoy each other and have FUN!