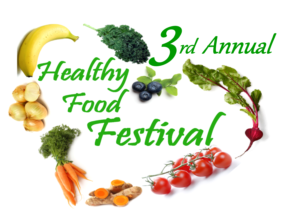 The Annual Healthy Food Festival is held  in Grants Pass, Oregon in September.  A wide variety of activities, vendors, learning opportunities and tastings await the attendees. The Healthy Food Festival gives the opportunity to learn about and taste a variety of delicious foods that are easy to prepare and support a healthy body and mind.
Classes in the Learning Center speak to how nutrition affects our bodies, minds, and spirits and offer scientific wisdom about how to utilize food for health.
                                                                                                                      
Several activities are planned for the entire family. Door prizes, Raffle, and SO MUCH MORE! See you there!